Welcome New Members!
We're glad to have you. Please feel free to jump into current discussions, or start one of your own. Again, welcome to Life's Daily Challenges!
Book Release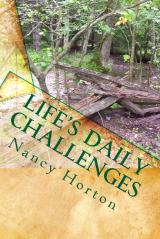 End of Summer Sale!!!
Use coupon code: 9SJBDYRW to save $2.00 off the original list price of $5.38, get your copy of Life's Daily Challenges (printed edition) now and save big!

To get your copy of the printed edition, please visit our: E-Store
Start free!
Free website, marketing tools, training, etc.! BBB credited, W9 filed w/IRS, pay day on Friday through direct deposit!
Welcome to Life's Daily Challenges!
A place for inspiration, and hope. To encourage and empower those who seek for a way to live a better life by overcoming their obstacles, and to learn how to move forward in a positive direction again. To make life more meaningful, peaceful, and prosperous in all that we do. What ever roads you travel, we are here to share our experience, strength, and hope.
Life's Daily Challenges

Topics
Posts

Last Posts

Here are many discussions "in general" which take place regarding life's daily challenges that we may not have a specific forum for. Perhaps it is a social issue, financial issue, parenting issue, etc. This is a place to relate with others, for understanding, advice, comfort, and hope.


Moderator:

Administrator


18

25

Epic Entrepreneur
7/11/2017, 5:37 pm
Nancy
Life's Purpose is for those who are seeking guidance, or to share your strategy in finding your true purpose in life; as well as inspirational and success stories regarding your purpose in life.


Moderator:

Administrator


10

15

How bad do you want it? (...
8/18/2014, 3:31 pm
Nancy
This forum is specifically designed for those struggling to achieve their goals, or simply to share with others the strategy in which they use to move forward in a positive direction.


Moderator:

Administrator


13

20

Small Steps vs. Big Steps...
7/25/2014, 12:55 am
Nancy
Health & Wellness is it's own special place for anything regarding your health. Including any discussions or inquiries; news; articles; research information; videos; companies; websites; fitness and other products; etc. What ever your interest is, join us all here for your health & wellness needs.


Moderator:

Administrator


7

8

Caffeine may boost long-t...
7/25/2014, 1:09 am
Nancy

The Journal

Topics
Posts

Last Posts

This forum is our daily inspirational messages, written by Nancy Horton. Each new topic is available for members to read and/or reply to messages.


Moderator:

Administrator


30

39

Which flower are you?
9/19/2014, 9:54 pm
Nancy

Who is online?

Our users have posted a total of 196 messages
We have 57 registered users
The newest registered user is laraibmalik420
In total there is 1 user online :: 0 Registered, 0 Hidden and 1 Guest
Most users ever online was 26 on 12/20/2009, 12:48 pm

Registered Users: None

No users have a birthday today
Users with a birthday within the next 7 days: HALIMAH83 (35), juliamarie (48), mugiddeh (35), Olivera (51), Pamela (52)
Legend : [ Administrator ][ Moderator ][ Member ]
| | | | | | | | |
| --- | --- | --- | --- | --- | --- | --- | --- |
| | New posts | | | No new posts | | | Forum is locked |